A success story in parched India
(Read article summary)
In India, the tiny village of Wankute agreed to manage its watershed and since then everything from crops to jobs and income have flourished.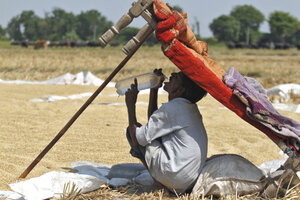 Amit Dave/Reuters/File
Wankute, a tiny village located high in the Sahyadri mountain range of the Maharashtra state of India, was dry and near-barren in the 1990s. Agriculture was limited to crops that could withstand hot temperatures and little water, such as millet and certain legumes.
The men worked outside of the village to bring in enough income for their families. Women sometimes walked for a kilometer and a half (one mile) to obtain the day's water. During the three months of annual, inevitable drought, the villagers would pay to have water tankers come in.
"The Green Revolution that transformed agriculture elsewhere in India had little impact in the semi-arid tropical regions, where agricultural productivity is low, natural resources are degraded, and the people are poor," says an International Food Policy Research Institute research report.
In 2003, the residents heard about the success of watershed development in similar nearby villages and wanted to try it for themselves. The main problem in Wankute was not that there was no rainfall, but that the limited 450 millimeters (18 in.) that fell every year did so during a short period of time, usually for less than three weeks.
To transform their community, the village partnered with the Watershed Organization Trust (WOTR), a not-for-profit NGO that works in several Indian states, to bring much-needed water and prosperity to Wankute.
Since 1996, WOTR has conducted 747 watershed projects in India. The first of its 11 developmental sectors is a commitment to Integrated Water Resources Management.
Efforts were at first met with some skepticism and resistance. Villagers were especially uneasy when WOTR mandated a ban on tree felling and the free grazing of cattle. But this was necessary for the planting of new trees and grasses, which would hold the soil and moisture in place.
The main idea of the watershed development in Wankute was to build a water- treatment structure composed of bunds (ridges and ditches in the soil) and check dams. Today, the results are clear. The water tables have risen significantly, and the villagers have not imported tankers for water since the project was finished.
---