Ai-jen Poo organizes labor with love
(Read article summary)
She battles for those on the economy's bottom rung – nannies and housekeepers.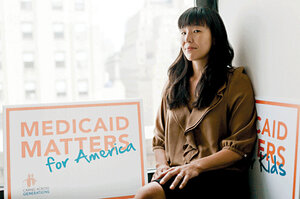 Photo by Erica Camille for YES! Magazine
Talk to Ai-jen Poo about her work and it won't be long before you hear language you don't often hear in the midst of intense social movement campaigning. For one, she does not shy away from talking about "organizing with love."
A 37-year-old organizer based in New York City, Poo is founder of Domestic Workers United (DWU), a group that waged a successful campaign for landmark legislation in New York state recognizing the labor rights of nannies and housekeepers. Now, as director of the National Domestic Workers Alliance (NDWA), she is spearheading an even more ambitious effort, a Caring Across Generations campaign designed to address the crisis in how we care for our children, our elders, and the disabled in this country.
"I believe that love is the most powerful force for change in the world," Poo says. "I often compare great campaigns to great love affairs because they're an incredible container for transformation. You can change policy, but you also change relationships and people in the process."
RELATED: Meg Whitman and the perils of employing illegal help: six memorable cases
How does this view square with the fact that campaigns often involve a lot of conflict and acrimony?
"I think that you can love someone and be in conflict with them," she says. "And I think that it's the same thing when we're trying to transform a fundamentally unequal society. There's a level of discomfort and conflict that has to happen in order for us to achieve a more loving fate."
This focus on love has had a profound effect on many of Poo's colleagues.
---