US cities try 'benchmarking' to make buildings save more energy
(Read article summary)
'Benchmarking' motivates owners to rehab their buildings to save energy, carbon emissions, and fuel costs.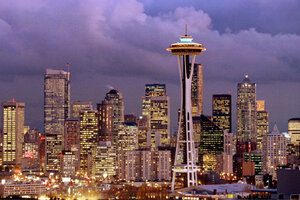 Blake Sell/Reuters/File
Humans are an increasingly urbanized species; for the first time in history, more people live in cities than in rural areas.
And that, of course, means more buildings, which means more concentrated energy usage.
Many cities are trying to limit carbon emissions by monitoring energy use to keep it at sustainable levels. A new monitoring approach, called "benchmarking," counts on a combination of raising awareness, motivating people through comparative measures, and fostering a sense of responsibility to help building owners be greener.
In New York City, benchmarking was piloted in August 2011, and it launched in November in Seattle; it is also currently launching in Austin, Texas; San Francisco; and Washington, D.C.
The idea behind benchmarking is that measuring and rating a building's energy performance, and making that information available in certain contexts, can help owners identify ways to increase building energy efficiency and lower energy costs.
The key to the program's success is its emphasis on transparency – even though the information is not completely public.
"Benchmarking creates awareness," said Jayson Antonoff, Seattle's program manager for the benchmarking and reporting initiative. After a building owner has done benchmarking, any current or potential tenant, buyer, or lender can request to see the energy performance report, so they can make informed decisions on using the building.
---