Viva Farms grows a new generation of farmers
(Read article summary)
Through Viva Farms, Sarita and Ethan Schaffer introduce newcomers to farming and teach sustainable techniques as an alternative to 'factory farms.'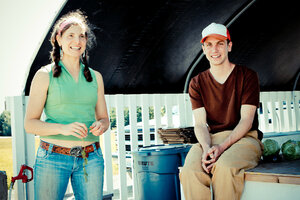 Courtesy of Amanda Wilson (awilsoncreates.photoshelter.com/)
Dressed in a bright orange shirt and khaki pants, Ethan Schaffer stands in front of a captive audience at the Social Innovation Fast Pitch taking place in Seattle in early October.
"Who will grow your food?" Mr. Schaffer asks the audience, who votes to award a cash grant to the best idea and presentation at the fast pitch event. "These guys?" he probes, pointing to a large photo of an elderly couple holding a pitchfork, reminiscent of the classic painting "American Gothic." "The average age of a farmer in the United States … is 57 years old; 70 percent of farmland is owned by farmers who will retire in the next 20 years," he says.
These statistics concern Mr. Schaffer, and his wife Sarita Schaffer. The young couple has been working in the organic food movement since they helped found growfood.org, a website aimed at connecting people with farms, in 2001 at the age of 19. Their presentation at the Social Innovation Fast Pitch was for a new project called Viva Farms, which won two audience choice awards and the first prize nonprofit award that day.
Viva Farms offers bilingual education on farming and farm management in partnership with Washington State University Extension and growfood.org, and runs a local farm "incubator" for start-up farmers, offering them land, equipment, and other help. The goal is to train the next generation of American farmers and contribute to a sustainable food system.
"Historically land has been passed down from generation to generation within a family," Mrs. Schaffer says in a telephone interview. "But with new access to education, farmers' kids now have an opportunity to choose nonfarming professions, which is great. But also means the number of young people pursuing farming has decreased by 37 percent since 1989."
---