Aquaculture could help feed rising world demand for protein
(Read article summary)
Fish farming needs fewer resources than raising livestock and can be more environmentally sound than open-water fishing.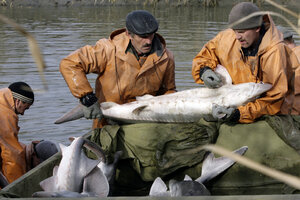 Vladimir Konstantinov/Reuters/File
According to a recent report by the World Fish Center, while natural fish stocks are being rapidly depleted aquaculture, or the farming of fish and other aquatic species, could play an important role in meeting rising global demand for marine and freshwater products.
Aquaculture is one of the fastest-growing food production systems in the world – it grew more than 21-fold since 1970. Currently, half of the seafood we eat comes from aquaculture, and as the human population continues to rise, demand for marine and freshwater products is likely to continue to grow.
There are many positive aspects to aquaculture. When compared to global livestock production, aquaculture requires less land, water, and natural resources. Farming fish is a comparatively more efficient way of supplying protein primarily because fish are coldblooded and have low metabolic rates. This results in more units of energy of protein produced for each unit of energy it took to raise the fish.
---