New guidelines show chimps are rarely needed for medical research
(Read article summary)
The National Institutes of Health issued new guidelines indicating that the use of chimpanzees to study diseases is rarely necessary.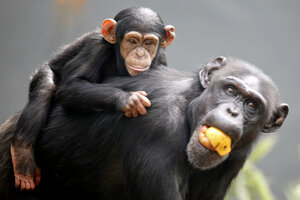 Daniel Munoz/Reuters/File
Aside from the small African country of Gabon, the United States is the only nation in the world that still conducts research on chimpanzees.
Last Thursday, the National Institutes of Health (NIH) announced new guidelines stating that most chimp research is not medically necessary. For any research to continue, experiments must be "necessary to advance the public's health" and have no viable alternative methods, the NIH said.
The good news is that there are plenty of viable, even superior alternatives to most of research currently conducted using chimps.
The reaction to the new guidelines has been largely celebratory: The New York Times wrote that animal welfare groups cite it as a victory in their fight against chimp research, and Theodora Capaldo, president of the New England Anti-Vivisection Society (NEAVS), which has fought for years against the practice, said, "This pivotal report is the first step toward ending all chimpanzee research in U.S. laboratories. The science guided the IOM [Institute of Medicine] to its conclusion that they are 'not necessary' – a promising outcome for chimpanzees and better science for humans."
Some in the industry, however, see it another way. John VandeBerg, scientific director of the Texas Biomedical Research Institute, told the AP that he believes the new guidelines will have little or no impact on his facility, which runs one of the four large active chimp research programs in the country. Answers about which chimps will be released and when are vague, and the report leaves some potential loopholes.
---