One billion holiday wishes
(Read article summary)
As a new year dawns, 1 billion people worldwide face difficult challenges. But hundreds of organizations are working tirelessly to help.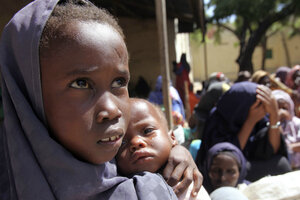 Ismail Taxta/Reuters/File
The holidays are a time for putting others before yourself. And with the recent announcement that the world's population has surpassed 7 billion, there are a lot more "others" to consider this year.
Nearly 1 billion people in the world are hungry, for example, while almost the same number are illiterate, making it hard for them to earn a living or move out of poverty.
One billion people – many of them children – have micronutrient deficiencies, decreasing their ability to learn and live productive lives.
IN PICTURES: Food security in Africa
But there are hundreds and hundreds of organizations working tirelessly in communities at home and abroad to fix these problems.
One billion hungry
Although the number of undernourished people worldwide has decreased since 2009, nearly 1 billion people go to bed hungry each night. This number is unacceptably high. Malnutrition contributes to the death of half a billion children under the age of five every year, and in Africa alone, one child dies every six seconds from hunger.
But organizations such as the World Food Programme are using home-grown school feeding (HGSF) initiatives to alleviate hunger and poverty. HGSF programs in Brazil, India, Thailand, Kenya, and other countries work to connect local producers with schools, helping to provide children with nutritious and fresh food while providing farmers with a stable source of income.
---