Seeking justice for victims across borders
(Read article summary)
The nonprofit group CJA tracks down those who commit crimes in one country and flee to another – and hauls them into court.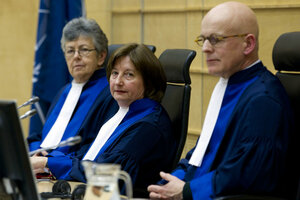 Peter Dejong/Pool/Reuters/File
Last August, federal agents in Massachusetts arrested a man in his late 60s. The man, Inocente Montano, had lived quietly north of Boston since 2002. Then, in May, Mr. Montano, who had been a military officer in El Salvador in the 1980s, was indicted by a judge in Spain for his involvement in the 1989 killings of six Jesuit priests and two women during the civil war. Now Montano endures home detention, facing US charges, held by one government and wanted by another.
American law enforcement has arrested hundreds of people like Montano – foreign former military commanders or officials now living in the United States despite involvement abroad in torture, extrajudicial killings, or other serious human rights abuses. These hundreds are dwarfed by the survivors around the world who are themselves victims of such acts or are relatives of the abused or dead.
For many survivors it has been decades since they were harmed. They have been denied by politics or corruption any redress in their home countries. Their histories show that one consequence of war is that peace may offer no justice.
A small San Francisco-based nonprofit organization called the Center for Justice and Accountability (CJA) works to find a measure of justice – and, just as importantly, truth – for such victims.
"So often what happens in cases involving state-sanctioned violence is the state also hides any evidence," says Pamela Merchant, the CJA's director. "It's hugely important for survivors to have their stories acknowledged at all."
---