Work, reimagined: Detroit gets creative
(Read article summary)
How residents of Detroit, America's most famously down and out city, are building livelihoods that also rebuild their communities.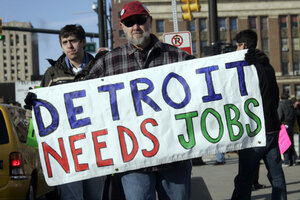 Rebecca Cook/Reuters
For nearly a decade, Gloria Lowe was a final-line inspector for Ford Motor Company, checking new Mustangs as they rolled off an assembly line in Dearborn, Mich. She worked at the River Rouge Complex, a hulking, mile-long structure that, back in the 1930s, employed as many as 100,000 people.
By the time Gloria started working there, just a fraction of the workers remained. (Since the year 2000, metropolitan Detroit has lost about 200,000 manufacturing jobs, despite experiencing a slight gain since 2009.)
Then one day, in 1999, Gloria was on her way back into the plant after parking yet another Mustang when an automated, two-thousand pound metal door came loose and crashed down on her head. She was diagnosed with left-side nerve damage from the top of her brain down through her feet, and later, with PTSD, post-traumatic stress disorder.
"What image do you have in your mind about Detroit? Do you see only empty lots and abandoned buildings, and trash all over the place? Or do you see the empty lots as we who live there see them – as opportunities?"
"I was told by my doctors that I would never work again. I was only 50 years old. I didn't know what it meant not to work," Gloria recalls.
She was able to find a part-time job at a law firm, helping military veterans apply for aid and benefits. During those consultations, she listened to the stories of dozens of veterans, most of them men, who "were lost and didn't know what to do," says Gloria.
---