Tim Tebow, the philanthropist
(Read article summary)
How is Tim Tebow using his fame as starting quarterback for the Denver Broncos? Impressively.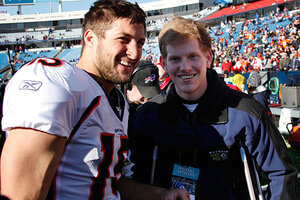 (AP Photo/Derek Gee)
Forget Tim Tebow, the star athlete and starting quarterback of the Denver Broncos.
Forget his on-field genuflections, the Bible quotes, and the fourth-quarter "miracles."
Let's look at Tim Tebow, the philanthropist.
For all the controversy around his public prayers or his readiness to lead an NFL team to a Super Bowl, few can fault Tim Tebow's acts of kindness.
Just before each football game, when most pro-athletes put on their "game face" and ignore teammates and family members, the Denver Broncos quarterback makes it a point to visit with a struggling fan.
Minutes before the start of last Sunday's game against the Pittsburgh Steelers, Tebow took time to chat with 16-year-old Bailey Knaub, a girl who has had 73 surgeries. In Buffalo, on Dec. 24, Jacob Rainey, a young football player who had lost his leg, was the beneficiary of Tebow's pre- and post-game attention. This Saturday, Tebow will meet with 20-year old Zack McLeod on the sidelines as part of The Tebow Foundation's Wish 15 program that grants requests for young people with serious medical issues.
Aren't such charitable activities a distraction from his chosen profession, asked ESPN columnist Rick Reilly.
---