Young Internet entrepreneurs embrace philanthropy
(Read article summary)
Facebook's Mark Zuckerberg, Twitter's Biz Stone, Craigslist's Craig Newmark, and many others have turned their entrepreneurial skills to solving the world's social problems.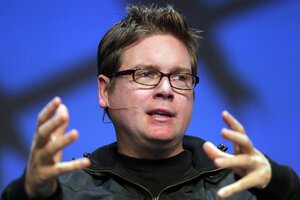 Adam Hunger/Reuters/File
When Mark Zuckerberg, the 27-year-old co-founder of Facebook, announced last year that he was giving $100-million to set up a foundation to help Newark, N.J., public schools, he became one of the highest profile examples of an increasingly common type of big donor: the Internet geek gone good.
Mr. Zuckerberg follows donors like eBay's Pierre Omidyar and Jeff Skoll and AOL's Steve Case down what's becoming a well-worn path for Internet entrepreneurs.
Those entrepreneurs and company officials listed on this year's Forbes ranking of the richest Americans – who represent Amazon, eBay, Facebook, Google, Salesforce.com, Yahoo, and others – account for at least $1.54-billion in gifts announced to the public over their lifetimes, according to a Chronicle tally (and that's not including Bill Gates, who has given more than $28-billion).
---