How Haiti is fighting poverty by killing cash
(Read article summary)
With many of Haiti's physical banks destroyed, Haitians are beginning to rely on their cell phones as 'mobile wallets.'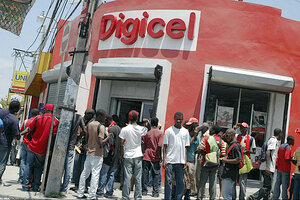 St-Felix Evens/Reuters/File
In Haiti, cash is escaping from wallets and savings accounts are breaking free from brick-and-mortar banks.
Two years after 2010's devastating earthquake, mobile money has taken off in the island nation. While the country has seen setbacks in many areas and continues to struggle, one bright spot is the transformation of the country's traditional banking sector.
Physical banks were wiped away by the quake and subsequent hurricane, and a mobile banking network that uses cell phones has grown up in their place.
Toting your money around on a cell phone might sound scary, but for many Haitians it's more secure than carrying around a wallet, which isn't protected by a PIN. The handy infographic to the left shows how a mobile money transaction works.
RELATED: Five tasks for Haiti's new pop-singer president
In the months following the quake, both Mercy Corps (our parent organization) and The Gates Foundation sponsored separate Haitian cell phone companies, Voilà and Digicel, to help mobile money take off, with the Gates Foundation offering monetary incentives for the first company to get a program off the ground and for continued improvements in order to get entrepreneurial engines revving.
---