Super Bowl pizzas give US troops a taste of home
(Read article summary)
Through Pizzas4Patriots Mark and Kent Evans send thousands of pizzas to US troops stationed overseas on Super Bowl Sunday and the 4th of July.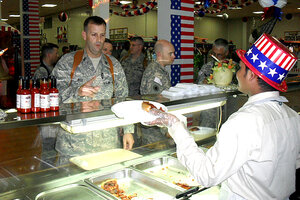 Courtesy of Pizza4Patriots
It was a Friday night in June 2008, "guys' night" for Mark Evans and his son.
Mr. Evans and his wife have two older daughters, but that night it was meant for just him and his fifteen-year-old son, Kent. They'd ordered pizza. The TV was on, playing a program about the wars in Iraq and Afghanistan.
"Do they have pizzas there in the Middle East?'" Evans, a resident of Elk Grove Village, Ill., remember his son asking that night about the US troops engaged in the fighting. Evans, a retired master sergeant who was in the Air Force for 26 years, was able to reply from experience when he told Kent, "No, they're eating out of boxes."
That's when Kent asked his dad if they could send pizzas to the troops overseas.
Evans e-mailed US Army Gen. David Petraeus, the head of US forces in Iraq, asking about the idea and, Evans says, he received a reply within 12 hours. It's a great idea, go for it, the general had said. "Only a master sergeant can do this," the e-mail from General Petraeus read, according to Evans.
Evans, who works for AT&T, and Kent, who is now a student at the Illinois Institute of Technology and enrolled in the Air Force ROTC program there, originally wanted to raise enough money to send 300 pizzas to soldiers overseas, but were able to ship more than 2,000 for the Fourth of July that year. The shipping company DHL Express delivered the food for no charge.
---