Superman, Batman, Wonder Woman urge fans to help Africa
(Read article summary)
In a show of corporate social responsibility, DC Comics unleashes its superheroes on the problems in the Horn of Africa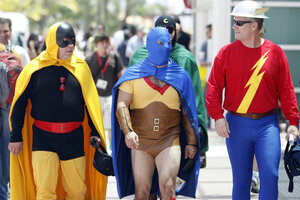 Mario Anzuoni/Reuters/File
On January 23, DC Comics announced a new campaign to support humanitarian work in the Horn of Africa, where a confluence of drought, famine, and Islamist militia rule have led some 13 million people to starvation.
The campaign, called "We Can Be Heroes," is a partnership with Time Warner and Warner Bros. and features iconic characters from DC Comics' "Justice League." These familiar faces, including Superman, Batman, Wonder Woman, Green Lantern, The Flash, Aquaman, and Cyborg, will be broadcast widely on television, inviting viewers to go to the campaign website, where they can donate directly to aid humanitarian efforts in the Horn of Africa, or purchase goods like mugs or t-shirts whose proceeds partly (50 percent) will go to the campaign.
"While many individuals may feel powerless to effect change on their own, as part of a global campaign such as this, their efforts, combined with those of other donors, can create a world of change," stated the campaign's press release last week.
IN PICTURES: Monitor photographers in Africa
Alongside the advertising campaign, $2 million in cash donations, employee matching funds, and consumer matching funds will be donated to Save the Children, International Rescue Committee, and Mercy Corps over the next two years for their work in the Horn of Africa.
---