Super Bowl puts spotlight on philanthropist's life
(Read article summary)
Myra Kraft's good works inspire Patriots football players and the New England region.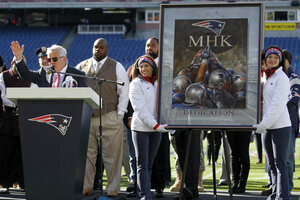 Jessica Rinaldi/Reuters
When New England Patriots running back BenJarvus Green-Ellis scored a touchdown in the American Conference championship game, he celebrated by pointing to the letters "MHK" sown onto his jersey, blew a kiss, and pointed skyward.
The gesture was aimed at honoring Myra Kraft, the wife of Patriots owner Robert Kraft, who passed on in July. The team, which will be trying to win its fourth Super Bowl title this Sunday, dedicated its season to the late Mrs. Kraft, who was known as a "hands on" philanthropist. Her charity work, much of it unpublicized, has come more to light since her passing in July and become an inspiration to the team and the region.
"One of the biggest hearts you can imagine. The things she did for people, it went beyond camera, and it wasn't all about the media," Patriots defensive tackle Vince Wilfork was quoted as saying in an article about Myra Kraft at ESPN.com. "She just did a lot for people. She wanted to be out in the community. With people that make a difference, going to the YMCA, Boys & Girls Club, going to these shelters, all the type of places that need help. She was right in the middle of it."
---