Can Facebook pursue a social mission and go public at the same time?
(Read article summary)
Mark Zuckerberg says Facebook is about more than making money – it has a 'social mission to make the world more open and connected.' Are the two goals compatible?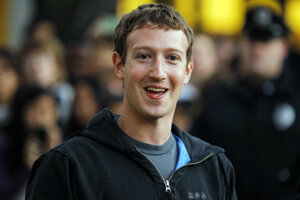 Brian Snyder/Reuters/File
Facebook's IPO listing [Initial Public Offering, or first sale of stock to the public] has caused quite a stir in the business community.
But Zuckerberg writes in a lengthy letter that his missions behind Facebook are not purely monetary. Rather, he writes that Facebook was created with "a social mission – to make the world more open and connected." And he goes on to say, "We don't build services to make money; we make money to build better services."
"Facebook was not originally founded to be a company. We've always cared primarily about our social mission, the services we're building and the people who use them. This is a different approach for a public company to take, so I want to explain why I think it works...," Zuckerberg says.
Bear in mind that this is a letter reaching out to potential investors. And its focus is not just on the monetary charms of getting a piece of the Facebook pie. Rather, Zuckerberg is arguing for a broader, deeper social impact.
So, what was the response to this social sentiment?
"I would suspect that Mark Zuckerberg could say whatever he wants, but he's probably still going to find that Wall Street is going to influence how he runs his company," said Danny Sullivan, an expert on the industry and editor of the web site Search Engine Land, to the New York Times.
---