Thistle Farms cultivates a better alternative to life on the streets
(Read article summary)
Episcopal priest Becca Stevens founded Thistle Farms – which makes bath oils, candles, and thistle paper – to help women in trouble reboot their lives.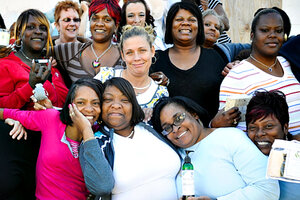 Courtesy of Lindsey Freitas
The thistle is the perfect symbol for Magdalene, a two-year private rehab facility for women with criminal histories of prostitution and drug addiction in Nashville, Tenn. The thistle flower, says Penny Hall, a former prostitute and resident of the facility, "comes up out of the concrete, and it transforms in to a beautiful flower."
The thistle, it turns out, is also the perfect tool for helping women who live on the street improve their health and their livelihoods.
Founded in 1997 by Becca Stevens, an Episcopal priest, Magdalene provides housing, food, medical treatment, therapy, education, and job training to women who find their way to the facility from prison and the streets.
The six homes at Magdalene are managed by the residents themselves, who work together to create a clean, comfortable, and supportive living environment. The residents range in age from 20 to 50, and most have abused alcohol or drugs, been arrested more than once, and many have prostituted themselves for money and drugs.
And before coming to Magdalene, most of these women did not imagine that their situation could possibly change. This is where the thistle plant comes in.
One way Magdalene helps women go from living and working in the streets to gainful employment is Thistle Farms, the organization's social enterprise. At Thistle Farms, the residents of Magdalene participate in therapeutic workshops where they learn to make bath and body oils, candles, and paper. The paper is made from thistle plants that the women collect on roadsides and fields, and every product that Thistle Farm produces is sold wrapped in it.
The products made by Thistle Farm are sold in stores in Nashville and across the country. All of the women are trained in manufacturing, packaging, marketing, and sales and administration, and employees have the option of putting a percentage of their earnings in a matched savings account.
---