Paddling down the Colorado River to surface its secrets
(Read article summary)
Will Stauffer-Norris and Zak Podmore traveled 1,700 miles to assess the state of the beautiful but threatened Colorado River.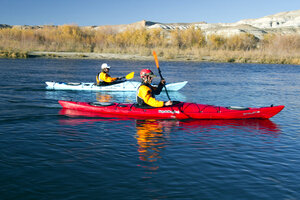 Courtesy of the Colorado College State of the Rockies Project
The schedule: Get up at first light. Wait for the sleeping bags to dry out from the dew. Paddle or float down the Colorado River until dark. Try to find a beach on which to camp out – not always an easy task, with some of the land along the river being privately owned. Read and write at night. Go to sleep and start over again the next day.
Will Stauffer-Norris and Zak Podmore followed this plan for 110 days for their Source to Sea project, a collaboration with the State of the Rockies Project. The State of the Rockies, which was created by Colorado College in Colorado Springs, Colo., studies issues that are facing the Rocky Mountain region.
Mr. Stauffer-Norris, who is from Blacksburg, Va., and Mr. Podmore, who is from Glenwood Springs, Colo., came up with the idea of kayaking down the entire Colorado River, starting in the Wind River Range in Wyoming and ending in Mexico's Sea of Cortez. The aim was to study the state of the river and how it will impact Americans in decades to come.
QUIZ: How much do you know about America's landmarks? Take the quiz.
---