Five private companies helping to reduce hunger
(Read article summary)
Pepsico, Kraft, Cargill, Land O' Lakes, and TNT Express are among many companies that have created nonprofit divisions to help alleviate hunger in developing countries.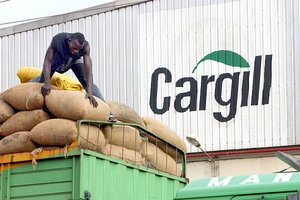 Luc Gnago/Reuters/File
You're probably familiar with PepsiCo's bubbly beverages and crunchy snacks, but did you know that the famous food company is also working to improve crop yields in Ethiopia?
Many for-profit enterprises have added a nonprofit division to their work, enabling them to use their private economic resources for public good.
Today, Nourishing the Planet highlights five private companies that are helping to reduce hunger around the world:
RELATED: Top 5 Millennium Development Goal success stories
1. Kraft Foods Inc.: As one of the world's largest food companies, Kraft Foods Inc. produces dozens of familiar brands, including Oreo, Nabisco, Kraft, Cadbury, and Maxwell House. Through its community involvement initiatives, Kraft Foods Inc. has donated more than $770 million worth of cash and food in the past 25 years and has also partnered with organizations such as Feeding America, INMED Partnerships for Children, and the National Latino Children's Institute to bring about programs that encourage healthy lifestyles and community service. These programs include Salsa, Sabor, y Salud (Food, Fun & Fitness), a program that teaches Latino families about the importance of healthy food choices and physically active lifestyles, and Kraft's 2010 Delicious Difference Week, in which Kraft employees in 56 different countries partnered with nonprofit organizations to plant community gardens, build playgrounds, serve the hungry, and more.
---