Crisis Action makes a big noise using quiet citizen diplomacy
(Read article summary)
Crisis Action acts like a coach or talent scout for humanitarian and other citizen groups – but always behind the scenes.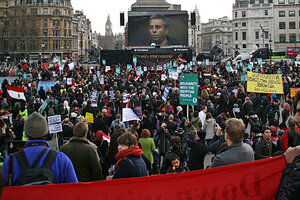 Crisis Action
Crisis Action likes to avoid the spotlight.
The nonprofit group considers the work it does to be like that of a football coach, an orchestra conductor, or a talent scout, says executive director Gemma Mortensen. Its job is to help the groups it works with – including some of the most well-known humanitarian aid organizations – be more effective by working together. Crisis Action works to "create a dream team" of experts and organizations to attack a particular problem, Ms. Mortensen says.
But, welcome or not, today Crisis Action is suddenly better known. Yesterday (Feb. 16) it was named by the John D. and Catherine T. MacArthur Foundation as one of 15 groups who will receive the 2012 MacArthur Award for Creative and Effective Institutions. The awards, in amounts ranging from $350,000 to $2.5 million, recognize "extraordinary organizations [who] demonstrate exceptional creativity and effectiveness" and whose "impact is altogether disproportionate to their size," says MacArthur President Robert Gallucci. (Click here for a press release and a list of award winners.)
That's certainly the case with Crisis Action. Founded in 2004, it has a tiny budget of about $2 million a year and just over 20 employees situated in seven key locations around the world: Cairo; Nairobi, Kenya; New York; and Brussels, as well as in France, Germany, and Britain.
---