Turning the opinions of Arab Spring youths into data – and creating change
(Read article summary)
Silatech and Gallup have teamed to collect detailed data on the views of Arab youths toward jobs and success – all to help policymakers make better decisions.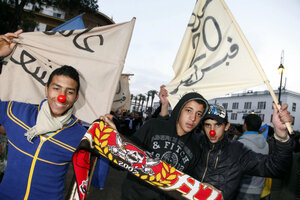 Reuters
No one needs a report to explain what "Arab Spring" youths continue to demonstrate for: jobs. But evidence that quantifies their sentiments could be the ticket to real policy change.
That's the idea driving a partnership between an organization focused on Arab youth employment, Silatech, with the world's leading polling and analysis company, Gallup.
Rather than analyze a country's problems by comparing traditional economic and demographic metrics – GDP and unemployment rate, age and level of education – Silatech and Gallup turn the opinions of Arab youth into comparable data.
Twice a year since 2008, the team has asked thousands of Arab youths their views about three areas the group sees as essential to driving change: job creation and availability, access to the resources they need to find meaningful employment, and the policies they see in the way of their success.
"The report offers a fresh approach to understanding how young people across the Arab world are being affected by, and are responding to, the global economic downturn. Further, this report offers a realistic view of how young people see their future, their prospects, and the paths they so earnestly wish to pursue," says Silatech CEO Rick Little.
With more than 100 million people between the ages of 15 and 29 in the Middle East and North Africa – 30 percent of the population – the region is experiencing an unprecedented "youth bulge." We've already seen how the stability of the region depends on whether these educated, healthy young people have opportunities to be productive citizens. Policymakers have no choice but to get things right given current circumstances.
---