'Lemonade Detroit' film shares stories of resilience
(Read article summary)
Documentary film by Erik Prouix highlights the resilience of Detroit while paying for itself through a Buy-A-Frame offer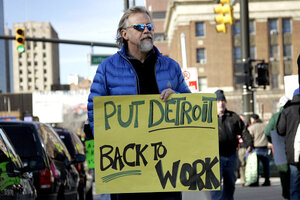 Rebecca Cook/Reuters/File
"I think that it's a city that has begun to realize that it's really only gonna be lots and lots of small solutions," says one of the subjects of "Lemonade Detroit," a film that highlights stories of resilience in the Motor City. "One building, one block at a time, one person at a time, one life at a time," says another; yet another adds, "Lots of little things, that's the future."
They are community leaders, entrepreneurs, automobile manufacturers. They are Detroiters. And they refuse to believe that their city will not bounce back from the post-industrial crisis it finds itself in, with a drastically reduced population – now at 714,000, down from 2 million around 1950 – high unemployment, and an enormous swath of the city's property lying vacant or blighted.
Erik Proulx, the creator of "Lemonade Detroit," who is based in Austin, Texas, began filming "Lemonade Detroit" nearly two years ago. The stories of resilience he was finding in Detroit, stories of residents worked to create a future in a city that many said wouldn't have one, needed to be told, he knew.
He is taking a unique approach to the film's production, allowing individuals to become co-producers by purchasing frames or parts of frames – not only helping with the film's expenses, but also creating a sense of engagement for people who see the film's value as a motivator for other projects of resilience and social innovation. So far, 2,344 producers have funded 63,381 frames.
---