From hazelnut trees to Foxconn and iPhones, corporate responsibility is growing
(Read article summary)
Mountain Hazelnut Venture is planting trees, paying fair wages, and supplying customers in a triple win for corporate social responsibility.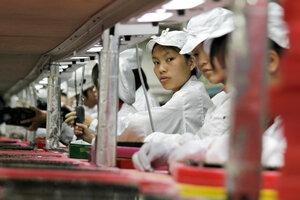 Bobby Yip/Reuters/File
The bottom line of any profit-making scheme is profit. Increasingly, consumers are demanding even more than that.
A new for-profit in the Southeast Asian nation of Bhutan is one of many new companies developing a more holistic approach to business. Mountain Hazelnut Venture's goals are lofty: combat deforestation by planting 10 million hazelnut trees in the next five years, employ and empower 15,000 small holding farmer households with fair wages in rural Bhutan and supply the European hazelnut demand by exporting 40,000 metric tons of hazelnuts by the year 2020. Oh, yeah – and also turn a profit.
Mountain Hazelnut Venture is one of many emerging companies whose goals include the triple bottom line of corporate social responsibility: people, planet, and profits. The term corporate social responsibility, or CSR, has been around for decades, but the evidence that corporations are moving toward increased emphasis on CSR is mounting.
CSR is itself becoming big business. The Wall Street Journal releases a weekly "Corporate Social Responsibility Weekly Recap." The title "CSR Specialist" is a nascent career choice. Many companies, like Nike, even release an annual corporate responsibility report, which they allow to be dissected by the public.
---