Rethinking Carbon Dioxide (CO2): from a pollutant to a moneymaker
(Read article summary)
Three startup companies led by prominent scientists are working on new technologies to remove carbon dioxide (CO2) from the atmosphere. The scientific community is skeptical, but these entrepreneurs believe removing CO2 can eventually be profitable and help cool the planet.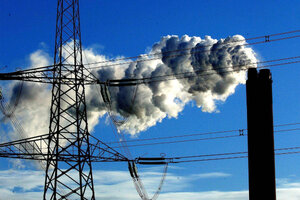 John Giles/PA/AP/File
With global greenhouse gas emissions still on the rise, despite decades of talk about curbing them, maybe the time has come to think differently about the climate crisis. Yes, we need to burn less coal, oil and natural gas, but clearly fossil fuels are going to be around for awhile. So why not try to clean up the mess they make?
That's what a handful of prominent scientists are trying to do by developing technologies to remove carbon dioxide from the air. These scientists have launched start-up companies and attracted well-to-do investors – most notably Bill Gates – along with venture capital and, most recently, the attention of Wall Street. They say their technology does not need government support, though it would help. What it needs, above all, is a mindset that regards CO2 not simply as a pollutant but as a valuable commodity.
Nathaniel "Ned" David, the chief executive of a startup called Kilimanjaro Energy, puts it this way: "The single largest waste product made by humanity is CO2. Thirty gigatons a year. It's immensely valuable, and today we just blow it out the tail pipe. What if there were some way to actually capture it, use it, and make money?"
Carbon dioxide removal, or CDR, is sometimes seen as a subset of geoengineering – deliberate, planetary-scale actions to cool the Earth – but it's actually quite different. Geoengineering strategies are risky, imperfect, controversial, and difficult to govern. The most-discussed geoengineering technology, solar radiation management, alleviates a symptom of the climate problem (warmer temperatures) but does nothing to address the cause (rising atmospheric concentrations of CO2). What's more, geoengineering as a climate response is stuck because governments have declined to provide more than token funds for research, and there's no business model to support it.
---