Does conservative philanthropy ignore the poor?
(Read article summary)
Conservative philanthropy once helped dispel the stereotype of conservatives as uncaring or hardhearted by developing thoughtful private approaches to alleviating poverty. Why has it been abandoned today?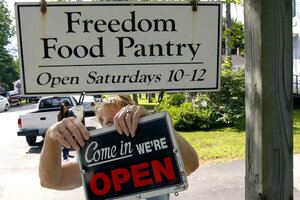 Brian Snyder/Reuters/File
Mitt Romney announces that he is "not concerned about the very poor." Newt Gingrich calls for drafting low-income students to work as janitors. Meanwhile, the other candidates for the Republican presidential nomination have little at all to say about the poor, beyond demands to cut federal programs that focus on their needs.
All this confirms one of the oldest stereotypes in American politics: that conservatives are uncaring, hardhearted skinflints, unworthy to govern a people known for charity and compassion.
Conservative philanthropy once helped dispel that stereotype by developing thoughtful private approaches to poverty. Unhappily, it now simply reinforces unfavorable impressions by focusing on short-term political advocacy rather than long-term civic problem solving.
Four decades ago, conservative foundations began to chip away at the image of right-wing mean-spiritedness by exploring the notion that a revitalized civil society would curb poverty more effectively than expensive bureaucratic government programs.
In this view, local charities and religious groups had enabled the poor to survive and make progress throughout American history.
These small, tightly knit groups not only provided material support for the poor but, more important, inculcated moral and political virtues like self-discipline, perseverance, and personal responsibility, which are required for productive work and public-spirited citizenship.
Government programs tended to displace and erode those groups, conservative grant makers believed, so if civil society were to be revived, it would have to be chiefly through private giving.
Consequently, conservative foundations began to support the scholars and institutions that were developing policy ideas like school choice, as well as the tenets behind the welfare overhaul of the mid-1990s and White House plans to give faith-based groups government money to fight poverty. While reducing government presence, such programs would also resuscitate the innate capacities of vibrant local communities to solve their own problems according to their own values and beliefs.
---