On Japan earthquake anniversary: a letter of hope and resilience
(Read article summary)
One year after the Japan earthquake and tsunami, a resident finds gratitude and cooperation amid the devastation.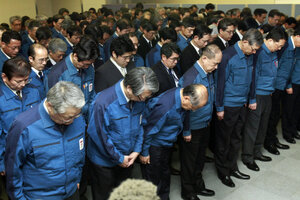 Kyodo/Reuters
Anne Thomas is a teacher who was living in Sendai, Japan, at the time of the massive earthquake and tsunami. A letter that she sent to her friends and family, describing resilience and cooperation amid the devastation, went viral.
"If someone has water running in their home, they put out sign so people can come to fill up their jugs and buckets," she wrote. "People keep saying, 'Oh, this is how it used to be in the old days when everyone helped one another.' . . . Somehow as I experience the events happening now in Japan, I can feel my heart opening very wide. My brother asked me if I felt so small because of all that is happening. I don't. Rather, I feel as part of something happening that much larger than myself. This wave of birthing (worldwide) is hard, and yet magnificent."
Still in Sendai, Anne kept writing letters, which are now being published in a book. A year after the tsunami, she sends this update:
Dear Family and Friends,
It seems hard to believe it has been a year since the Great Japan Earthquake and Tsunami came rumbling through, causing so much havoc and dismay. So much has happened since that tumultuous time, and so much has yet to be done. But where are we now? How are things one year later?
Change is very uneven. So the way you would answer that depends on where you are. In Sendai, life bustles. Construction is going on everywhere. Old buildings are being torn down or repaired. New places are springing up. Water and sewage systems are being replaced and roads repaired. It is definitely a city rebuilding itself, and stands proud in the process.
---