Fast-track breeding could bring a second Green Revolution
(Read article summary)
Green revolution: Fast-track breeding is beginning to develop crops that can produce more and healthier food – without controversial genetic engineering.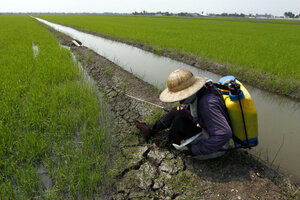 Sukree Sukplang/Reuters/File
In Zambia during the current planting season, a corn crop will go into the fields that begins the process of rapidly boosting vitamin A content by as much ten-fold – helping to address a nutritional deficiency that causes 250,000-500,000 children to go blind annually, most of them in Africa and Asia. In China, Kenya, and Madagascar, also this planting season, farmers will put out a crop of Artemisia annua that yields 20 to 30 percent more of the chemical compound artemisinin, the basis for what is now the world's standard treatment for malaria.
Both improvements are happening because of fast-track breeding technology that promises to produce a 21st-century green revolution. It is already putting more food on tables – though it's unclear whether it can add enough food to keep pace as the world's human population booms to 9 billion people by 2050.
Fast-track breeding is also giving agronomists a remarkable tool for quickly adapting crops to climate change and the increasing challenges of drought, flooding, emerging diseases, and shifting agricultural zones. And it can help save lives: In the absence of prevention, half those victims of vitamin A deficiency now die shortly after going blind, according to the World Health Organization; and in 2010, lack of adequate treatment – meaning artemisinin – contributed to the deaths of 655,000 children from malaria.
---