Why 'Kony 2012' video grabbed 100 million views online
(Read article summary)
The 'Kony 2012' online video, urging action against warlord Joseph Kony and his Lord's Resistance Army in Central Africa, works because it tells a simple story that makes the viewer the hero, an expert says.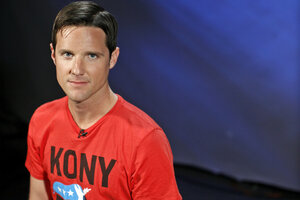 Brendan McDermid/Reuters
The Chronicle asked Michael Hoffman, chief executive of See3 Communications, a consulting company that helps nonprofits use video for advocacy and fundraising campaigns, to share lessons from the success of "Kony 2012," the video about the African warlord Joseph Kony. His essay follows:
Invisible Children's controversial "Kony 2012″ video has reached unprecedented heights for a social-cause video.
It has already received more than 100 million views on YouTube and Vimeo. The most amazing thing to many people is that the video is nearly 30 minutes long, which surely breaks the "rule" that online videos need to be short to be effective.
Starting From a Strong Base
It is important to understand that Invisible Children has been working for a decade building a strong, active, and passionate base of young supporters around the world. The San Diego advocacy group has one of the strongest social-media networks of any nonprofit in the world.
This video was pushed to and talked about by a massive wave of young supporters who used Facebook, Twitter, YouTube, and e-mail to share it. As a result, the "Kony 2012″ video had a unique advantage.
---