Pam Washek rallies a nonprofit Neighbor Brigade
(Read article summary)
In Massachusetts, families in need can turn to Neighbor Brigade, a nonprofit group founded by Pam Washek that's built community by community and run by neighbors themselves.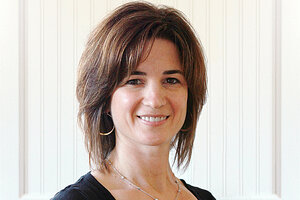 Courtesy of Anna Mellones
It was something Pam Washek says she'd never experienced before.
When Ms. Washek was diagnosed with cancer in 2002, she was thrust into a cycle of daily radiation treatments. Cooking meals and getting her three daughters where they needed to go were suddenly much tougher tasks. But Washek says neighbors and friends immediately stepped forward and took care of meals every day for her children and organized rides to get them where they needed to go.
"It was really heartening and comforting," says Washek, a resident of Wayland, Mass., a Boston suburb. "It almost made me feel I wasn't alone in this journey."
RELATED: Kate Middleton lends a hand to children, the arts with her charity projects
Her friend, Jean Seidon, was also going through cancer treatment and experiencing a similar outpouring of support. Together Washek and Ms. Seidon were inspired to create the Wayland Angel Food Network, an organization helping families who had suddenly been thrown into a crisis and needed help with everyday tasks.
Washek says the organization had 35 members when it first began, mostly people who had helped her family.
As services expanded beyond cooking, the name was changed to Wayland Angels. Then, when Seidon died in 2006 and the organization had spread to other communities, Washek decided to rename it Neighbor Brigade. She currently serves as the organization's executive director.
---