Five ways to make aquaculture more sustainable
(Read article summary)
Combining rice paddles and fish ponds, and using locally caught fish as feed, are just two of the ways that fish farming, or aquaculture, can be made more environmentally friendly.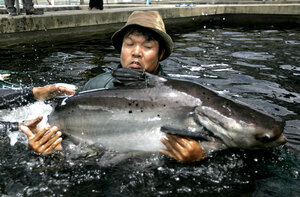 Sukree Sukplan/Reuters/File
Aquaculture, or the rearing of fish in captivity, is the world's fastest-growing protein-producing activity, with nearly 50 percent of all seafood being farmed rather than caught in wild fisheries.
This rapid growth has provoked questions of sustainability in the global aquaculture industry, including how to handle the massive amounts of salt water being imported inland for fish farms. While researchers warn of dangerous overfishing and decline in the world's wild fish population, aquaculture stands as a potentially sustainable alternative, and recent innovations promise to enhance the efficiency, safety, and sustainability of aquaculture while improving the lives of its fish farmers.
Today, Nourishing the Planet examines five innovations that are improving the sustainability of aquaculture around the world.
1. Integrating rice-and-fish farming: In many parts of Asia, rice farming provides a major source of income. Rice paddies and fish have long coexisted incidentally, since many fish species find their way into flooded rice fields and actually prefer the fields for reproduction and habitation. But, recently farmers have intentionally imported fish into their rice fields. The advantages of integrated rice-fish farming include a more productive and nutrient-rich rice crop, because fish increase the availability of phosphorous and nitrogen in soils; a reduction in disease-carrying aquatic weeds and algae, which compete with rice for nutrients but are a favored food among fish; and an extra source of income for farmers who can find markets for their fish.
---