Why Boulder, Colo., took charge of its electric company
(Read article summary)
Running its own electric utility will allow Boulder to use more sun and wind energy instead of coal – at the same or lower cost.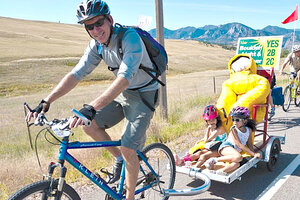 Zane Selvans
The city of Boulder, Colo., has won the right to take its power supply – and carbon emissions – away from corporate control.
The change for Boulder came in November when voters passed two ballot measures that allow the city to begin the process of forming its own municipal power utility.
The city's current electricity supplier, Xcel Energy, is a large corporation that sources more than 60 percent of its power from coal. Colorado climate activists tried for years to persuade Xcel to transition from coal to renewables, arguing that the state's plains, mountains, and 300 days of annual sunshine give it abundant potential for the development of wind and solar power.
But they found Xcel's take-up of renewables was frustratingly slow. Xcel is investing $400 million in its coal-powered plants, and its plans for renewables stops at just 30 percent in 2020, with no further increase until 2028.
City officials were increasingly skeptical about the corporation's willingness to meet their clean energy goals. Analysis showed a municipal utility could work, while prioritizing climate change action over profits to shareholders.
Boulder has long cherished the goal of becoming a leader in tackling climate change. In 2002, the city council passed the Kyoto Resolution on reducing greenhouse gas emissions. In 2006, residents voted for the nation's first city carbon tax to achieve those targets.
---