GoodGuide and others use technology to help turn consumers green
(Read article summary)
A host of companies and nonprofits are using technology – from smartphones to social networking – to make it easier for consumers to choose environmentally friendly products.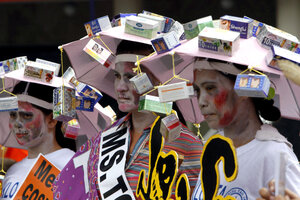 Romeo Ranoco/Reuters/File
The way Dara O'Rourke tells the story, the idea for GoodGuide came to him when he was slathering some suntan lotion onto his three-year-old daughter's face.
O'Rourke, an associate professor of environmental and labor policy at University of California, Berkeley, wondered about the ingredients in Coppertone Water Babies; he did some research and learned it contained oxybenzone, a potential skin irritant. Later, O'Rourke found out that Johnson's Baby Shampoo contained trace amounts of 1,4-dioxane, a probable human carcinogen.
"It shocked me," he says, "that I basically knew nothing about the products I was bringing into my own house."
O'Rourke started GoodGuide to plug that information gap. A five-year-old company backed by $10 million in venture capital, GoodGuide employs about 20 people, including environmental scientists, chemists, toxicologists, and nutritionists, who rate more than 165,000 products, including personal care items, household cleaners, food, toys, appliances, and electronics. Each product gets a numerical rating from 1 to 10 in three categories – health, environment, and society; the ratings are then made available on GoodGuide's website, on Facebook, and on smartphones.
O'Rourke describes GoodGuide as a social enterprise, meaning the firm has a purpose that goes beyond making money: It aims to persuade consumers to vote with their wallets for environmentally friendly products and companies, and thereby help tackle big problems, including climate change, biodiversity loss, and industrial pollution.
---