Young entrepreneurs do good - and make a profit
(Read article summary)
Young entrepreneurs find new ways to drive social change through founding businesses.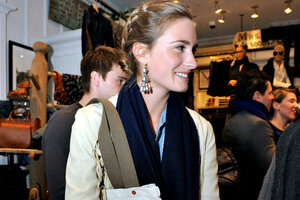 Chris Council/The Aspen Daily News/AP/FILE
The growth of new business models that both turn a profit and do good gives those who are entering the professional world a new choice.
College graduates, for example, no longer have to choose between a career path of making profits and one of doing good. They can choose to do both.
I attended the recent Social Enterprise Conference at Harvard University to meet with young entrepreneurs who have started hybrid ventures that combine business principles with social good. I was particularly struck by the young social entrepreneurs who were a part of a keynote panel.
All of them have created interesting ventures that seek to address problems they've encountered in their efforts to make a difference. And their stories offer an interesting look at how and why some people are turning their passion for changing the world into for-profit ventures.
The panel's moderator was Daniel Epstein, founder of the Unreasonable Institute, which gathers 25 entrepreneurs from around the globe in Boulder, Colo., for an intensive six-week summer program that aims to accelerate their social ventures.
Mr. Epstein is an avid believer in entrepreneurship – he had already created three ventures by the time he got his undergraduate degree. He started two others before creating the Unreasonable Institute, a social venture to gather others like him who wanted to use profit to drive change.
Joining him on the panel were three other social entrepreneurs:
Kavita Shukla, an inventor and the founder Fenugreen, the producer of FreshPaper, a product that extends the freshness of produce. Revenues generated through sales help to support the research and development of more solutions to further reduce the global issue of food spoilage.
Taylor Conroy, the creator of a turnkey online fundraising platform that has been successfully tested and will be made available for any individual or charity to use when it's completed.
---