Shakira advocates for children at the Summit of the Americas
(Read article summary)
Shakira will meet with heads of state, including President Obama, at the Summit of the Americas in Colombia. Shakira is already working to provide better education to children.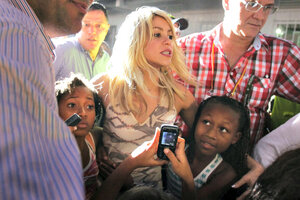 Ricardo Moraes/Reuters
Latin American pop superstar Shakira will be at this weekend's gathering of the Western Hemisphere's leaders advocating for her favorite issues: early childhood development and universal education.
The singer and philanthropist will attend the Sixth Summit of the Americas in Cartagena, Colombia, and meet with heads of state, including President Obama. She'll also perform the national anthem of her home country, Colombia, at the opening ceremonies.
The international celebrity and humanitarian started two groups, the Barefoot Foundation in the United States and Columbia, and the ALAS foundation in Panama, that deal with helping children reach their full potential. She's also serves as a UNICEF Goodwill Ambassador. In the United States, Mr. Obama appointed her to his President's Advisory Commission on Educational Excellence for Hispanics.
QUIZ: Think you know Latin America? Take our geography quiz.
"We've seen an increase in the number of programs directed at children between 0 and 6 years old, but it is still not enough and 35 million children from lower-income communities can't access high-quality early childhood education programs in [Latin America] today," Shakira told Forbes in an interview before the summit. "We have to keep working to build more centers, to train more teachers, and to involve more parents in their children's education. But we not only need more programs, we need better ones."
---