Karen Armstrong argues for practical compassion
(Read article summary)
The historian has helped world religions unite behind the idea of a worldwide charter for compassion. Can it become more than just a nice idea?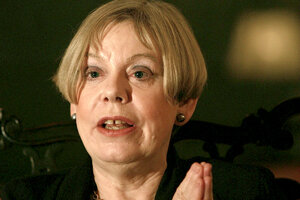 Mian Khursheed/Reuters/File
In 2008, religious historian Karen Armstrong was granted a wish. She had recently won the TED Prize, which comes with $100,000 and support in making a single "wish to change the world" come true.
Armstrong had already identified a fundamental principle that she believed united the spiritual traditions she studied: compassion. She made a wish to work with leaders and adherents the world over to create a Charter for Compassion, an overarching statement of human morality that could unite us all.
Through a web-based platform, thousands of people from more than 100 countries contributed to the writing of the charter; a multifaith, multinational council of thinkers and leaders edited and signed off on the final document. The charter has now been affirmed by more than 85,00 individuals. City governments, civic organizations, schools, and universities throughout the world are seeking creative ways to put its words into action.
But what can the charter really accomplish in a world where religion drives us into rancorous divides at least as often as it unites us? I recently spoke to Karen Armstrong about the politics and practicalities of compassion.
Heidi Bruce: One of the things that YES! Magazine covers is how to better bridge divides between seemingly opposed groups. What role can media play in helping people with very different beliefs engage one another in a productive manner?
---