'One Day on Earth' captures the variety of human experience
(Read article summary)
Kyle Ruddick and Brandon Litman got some 19,000 people to make videos of what they saw on a single day in every country in the world. The film 'One Day on Earth' shows what they found.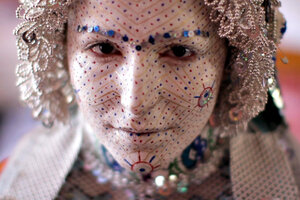 Courtesy of One Day on Earth
One Day on Earth founder and director Kyle Ruddick witnessed the power of people coming together from all over the world when he attended the World Festival of Sacred Music at the University of California in Los Angeles.
There were about 40 musicians onstage, Mr. Ruddick says, and they had never rehearsed together. They simply began playing, and somehow, it worked.
"We were all sort of blown away," Ruddick says. "Somehow they found a groove, they found a rhythm." As a filmmaker, Ruddick was inspired by the effort and began thinking of an idea of his own. "Cinema has this universal language element like music," Ruddick says.
QUIZ: How much do you know about Earth Day? Take our quiz!
Now he and co-founder and executive producer Brandon Litman are heading up One Day on Earth, an organization that on Oct. 10, 2010 (10-10-10), asked people in every country in the world to make a visual record of something they saw where they were living. More than 19,000 people picked up cameras.
The footage, which came in at 3,000 hours including audio in 70 different languages, has been edited down to a single feature film, also titled "One Day on Earth," which debuts this Sunday, April 22, which is Earth Day. Screenings will take place in more than 160 countries. The movie is the first to contain footage shot in every country in the world on the same day.
---