Farmers' markets go online
(Read article summary)
Online ordering systems, like Arganica Farm Club in the mid-Atlantic, Green Bean Delivery in the Midwest, and SPUD in the Northwest, deliver fresh local produce to consumers.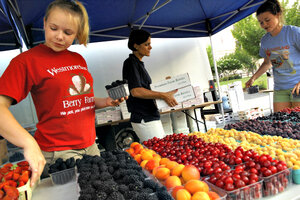 Jonathan Ernst/Reuters/File
It isn't always easy finding fresh, high-quality food in this country. Supermarkets with their long, complex supply chains usually offer unripe or subpar produce that leaves a lot to be desired.
But the usual alternative methods of provision have distinct limitations. Luckily, technology provides one great answer to this dilemma, opening up an important new avenue for small-scale producers to connect to customers.
Only local farms can deliver the very freshest produce. But while the common methods of providing this bounty to consumers – community supported agriculture (CSA) plans and farmers' markets – are essential components of a revitalizing fresh-food sector, they don't always provide a sufficiently flexible or robust shopping experience.
CSAs require a large up-front cash layout and lock you into eating whatever happens to be delivered. Farmers' markets vary vastly in size and quality, from those that enforce requirements on farm size and distance to those that don't seem to hold vendors to any standards at all. It's dismaying to discover resellers at "farmers'" markets; for all you know, they bought their wares at Safeway that morning.
For quality-minded consumers who would like to support local agriculture, it can be a struggle to obtain the freshest food on a consistent basis. And small farmers may struggle to find enough convenient markets for their goods.
---