Share (or rent) a cargo bike
(Read article summary)
Bike-sharing in Europe is spreading to so-called cargo bikes that can carry anything from products for customers to kids to school.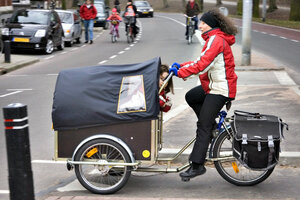 Michael Kooren/Reuters/File
Cargo bikes, which can be thought of as smaller and versatile counterparts of the pedicab, are bicycles designed to carry everything from bags of groceries to pots of plants. These utilitarian bikes have been in vogue in Denmark for years, and in its capital city Copenhagen, this nature-friendly mode of transportation is rapidly replacing cars.
Cargo bikes are especially alluring to parents seeking to shuttle their children around the city with ease. Some of the city's small business entrepreneurs are also innovating designs and adding features to transform their cargo bikes into portable businesses to sell newspapers, crepes, drinks, and more.
Across Denmark's borders, in Germany, a new website called Velogistics is offering an intuitive platform to enable peer-to-peer sharing of cargo bikes internationally. The website is maintained by Tom Hansing. Since the launch of the Velogistics website, people from the United Kingdom, Austria, and the United States have offered to rent out their cargo bikes.
---