Thinking local and sustainable makes economic sense, says Tom Wessels
(Read article summary)
Research ecologist argues a healthy economy and a healthy ecosystem go hand in hand.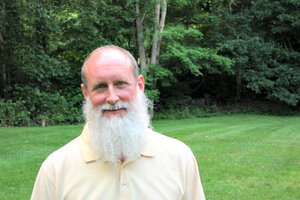 Cathryn J. Prince
If Dr. Seuss's Lorax speaks for the trees, Tom Wessels speaks for Earth's entire intricate ecosystems: After all, without forests and farms there wouldn't be any food.
As head of the conservation biology department at Antioch University New England in Keene, N.H., Mr. Wessels isn't against chopping down trees or clearing land to farm. He just wants to see more people embrace sustainable forest and land management practices.
Wessels, trained as a research ecologist, says economics plays as much a role in protecting the environment as does saving energy. Think how the adoption of fair trade principles for growing and selling coffee have changed the economics of that industry. Forests can benefit in the same way.
IN PICTURES: Protecting the butterflies' forest
"Adam Smith, the father of modern economic theory, wrote about this in 'Wealth of Nations,' " Wessels says. "People will act out of self-interest, but they can support each other doing it. The blacksmith makes the knives the butcher needs to earn his living; the butcher makes the meat the blacksmith needs to eat.
"Now we have too many corporations selling everything. We need to re-localize, re-regionalize, and become more resilient."
---