Three-wheeled carts, better septic tanks help clean up Jakarta
(Read article summary)
Mini 'sanitation trucks' that remove fecal sludge, and improved holding tanks, may help bring improved sanitation to millions of Indonesians without it.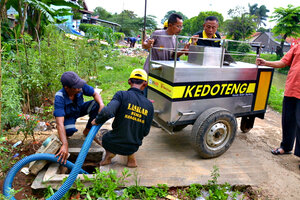 Jen Dillan/Mercy Corps
In Jakarta, Indonesia, an international aid nonprofit is getting into some dirty business: the sanitation industry.
By all statistical accounts, the United Nations' Millennium Development Goal of halving the world's population without access to sanitation services is failing. Some estimate the world won't reach that goal until 2049—34 years late.
For many of the world's poorest, access to clean sanitation—like toilets and hand-washing stations—remains a luxury. Annually, 50,000 Indonesians die as a result of poor sanitation; one person every 10 minutes.
RELATED: Top 10 nations lacking toilets
The gravity of this problem, combined with the failures of previous efforts to solve it, led Mercy Corps's Indonesia team to author a public health project in Jakarta with a nontraditional approach. Instead of simply funding a project to build latrines in Jakarta's slums, they take a market-development approach that will strengthen the value chain of Jakarta's private sanitation services industry, utilize new technology to enable sanitation companies to access previously unreachable people, and turn those people into customers.
Basically, they want to fundamentally change the sanitation industry in Jakarta.
---