Tunisians opened their homes and hearts to people fleeing Libya
(Read article summary)
The outpouring of generosity came spontaneously – people simply responded with compassion, a new report says.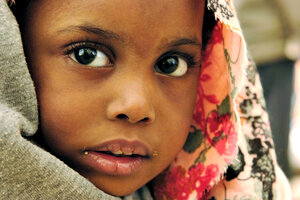 Anis Mili/Reuters/File
Tunisia had barely drawn breath following its revolution early last year when tens of thousands of people started arriving on its borders as an uprising in neighboring Libya gained momentum.
The amazing generosity of Tunisians who opened their homes and hearts to people fleeing Libya is revealed in the latest issue of Forced Migration Review (FMR), which looks at last year's Arab Spring revolutions in North Africa.
"The response from ordinary Tunisians was remarkable in its altruism," Antonio Guterres, the head of the United Nations refugee agency (UNHCR), says in an introduction to the FMR report published on the eve of World Refugee Day.
IN PICTURES: Libya: Daily life after Qaddafi
"I witnessed villagers sharing their homes and land while others drove for miles to provide sandwiches for those stuck in the crowds at the border."
The first people to arrive in southeast Tunisia were migrant workers who had been employed in Libya's huge oil industry, agriculture, and elsewhere.
Tunisian villagers organized cooking crews and took food to Djerba airport as the migrants waited for flights home, writes Katherine Hoffman, associate professor of anthropology at Northwestern University in the United States.
---