Loosecubes supports mobile workers of the future
(Read article summary)
Loosecubes office-sharing site aims to go beyond listing places freelancers and other mobile workers can set up shop to connecting them with people who have shared interests.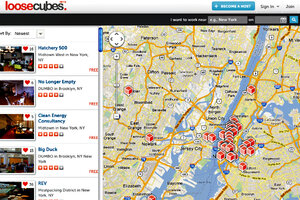 For the millions of freelancers, entrepreneurs, and travelers who desire a flexible work environment, coworking has become a way to maintain productivity, build community, and get out of the coffee shop.
Thousands of spaces in cities around the world are inviting people in to share work space, wi-fi, and coffee. Spaces that were created as coworking spots are leading the way, but in the spirit of Airbnb, people in a variety of office situations are renting out desks, sofas, and studios to people seeking a place to work.
But with a growing number of spaces to choose from, how does one find the one that is right for them?
Enter Loosecubes. A "global office-sharing community," Loosecubes helps people find spaces that suit the "vibe" they're looking for and to fill spaces with people they think would be a good fit for them. Going beyond simply listing available co-working options in a given area, Loosecubes seeks to connect people with shared interests, encourage relationships, and to create a network for the thriving co-working community.
What follows is a Q&A with Loosecubes founder Campbell McKellar, in which she talks about her motivation to create Loosecubes, the growth of the mobile workforce, the benefits of workplace flexibility, and how co-working can propel us out of the recession.
Loosecubes grew out of your own need to find a place, or various places, that you could work out of. Can you talk a bit about your own inspiration and the importance of having workplace freedom?
---