How to build a 'bike train'
(Read article summary)
Forty years ago, almost half of American kids biked to school. Bike trains are a smart idea for getting kids pedaling again.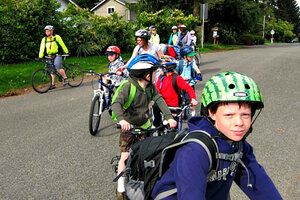 Maya Jacobs
It's hard to describe how endearing it is to look over my shoulder and see a line of cycling children stretching a block behind me. I feel like a mama duck, leading a line of two-wheeled ducklings.
It's the inaugural ride of the Thornton Creek Elementary School Bike Train, the first bike train in all of Seattle.
In 1969, according to the National Center for Safe Routes to School, 48 percent of kids aged 5 to 14 regularly walked or biked to school. In 2009, it was just 13 percent. A major reason for the change is that parents don't feel safe letting their kids bike on their own.
Bike trains – in which an adult chaperone rides a predetermined route, picking up children along the way – are a way to make it easier, and safer, for kids to bike to school.
RELATED: 10 great books about cycling
We round the corner to collect two more kids waiting patiently with their bikes at the ready. The train slows enough for the kids to hop on board, and then picks up speed again. By the time we reach school, our train is comprised of 13 laughing children, all proud to have made their morning commute on their own. With high fives and whoops, we are greeted by the 20 riders who took the north-bound route riders. The school's three bike racks are already overflowing with bikes, and the nearby posts are quickly filling up.
The Thornton Creek trains are just a small piece of the burgeoning Seattle bike-to-school network. Bike trains, which were part of my senior capstone project at the University of Washington, introduced me to some of the most inspiring people I know: families who have never owned a car, 10-year-olds who have cycled from Seattle to Portland, students who ride to school daily, rain or shine.
---