Blow-up solar lantern lights up Haiti's prospects
(Read article summary)
The elegant clear-plastic lantern, which charges itself when left out in the sun and emits the light of a 60-watt bulb, will bring a safe and inexpensive light source to those without electricity.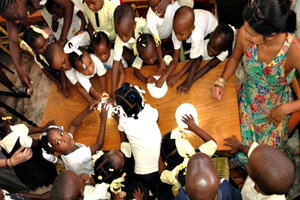 Courtesy of MpowerD
What does sustainable development look like? It's sitting in the palm of Jill Van den Brule's hand.
She and a handful of other social entrepreneurs have come up with a blow-up solar-powered lantern that squashes flat like a child's beach toy for easy transport. The elegant clear-plastic lantern has white LED lights that produce as much illumination as a 60-watt bulb, charges itself when left out in the sun, lasts a year, and costs $10 – a sum its inventors expect to be able to reduce.
"It cuts across a lot of problems," says Van den Brule, who previously worked with United Nations children's agency UNICEF in Haiti following the country's devastating 2010 earthquake and is now introducing the lanterns there.
RELATED: Top 5 nations that use renewable energy
Finding ways to create "energy for all" has been a focus at the Rio+20 sustainable development summit, which ended June 22 in Rio de Janeiro. The push, led by UN Secretary-General Ban Ki-moon, aims by 2030 to bring power to everyone around the globe, to double energy efficiency, and to double the share of renewable energy being used.
It has so far won commitments of more than $50 billion in private funding, as well as tens of billions of dollars of government, development bank, and civil society backing, UN officials said in Rio.
---