Forgive but don't forget, Myanmar comedian-turned-activist says
(Read article summary)
Zarganar, a comedian who is now a political activist, focuses on ways to ensue the atrocities of Myanmar's past are recorded and not forgotten by future generations.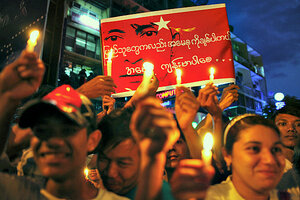 Damir Sagolj/Reuters/File
For a man who has spent most of his life cracking jokes, Myanmar's most famous comedian and political dissident, Zarganar, has a sober view of the world and takes his self-appointed role as a custodian of the past seriously.
Since his release from jail in October under an amnesty for political prisoners, Zarganar has focused on ways of ensuring the atrocities of the past are recorded and not forgotten by future generations.
A meeting in Cambodia with the head of the Documentation Centre of Cambodia, a private organization that has collected documents, films, and photographs of the Khmer Rouge, has inspired him.
Zarganar hopes a similar center can be built in Myanmar (formerly Burma), perhaps by 2013. It would be a test of the Southeast Asian country's transition from military rule to democracy, since many of those implicated in the abuses are still in power today.
"As we embark on the democratization process, 1988, 1990, 2007, and 2008 are four historical years we cannot forget," Zarganar, whose real name is Ko Thura, told AlertNet.
"We need to document what happened," he said, denying that revenge was a motivation.
"We know who committed those atrocities, but we don't want revenge. We have a saying that you shouldn't retaliate [against] hostility with hostility. It would be a vicious cycle. We won't be able to move forward."
Zarganar said individuals should no longer face being thrown into jail or being forced to take up arms because of their political beliefs.
---