Turning to old crop varieties for tough times
(Read article summary)
A new project led by Bioversity International reconnects farmers with older crop varieties developed over millennia – but never bred by scientists – that may help them adapt to changing climate conditions.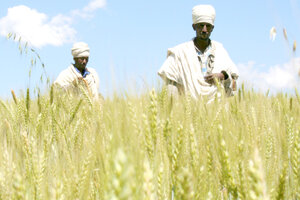 Barry Malone/Reuters/File
How will Ethiopian farmers cope with the climatic conditions that are likely to prevail in 20 or 30 years time? One of the answers lies in an unexpected place: the genetic diversity of crops stored in the country's own gene banks.
Traditionally, gene banks have been established to store material for plant breeders to use when developing new varieties, not for direct distribution of seeds to farmers.
However, a new project led by Bioversity International, a center of the Consultative Group for International Agricultural Research (CGIAR) is reconnecting farmers with landraces. These are varieties developed by farmers over millennia – but never been bred by scientists – that have been largely lost from the landscape.
Researchers working with the "Seeds for Needs" project, which is jointly implemented with Ethiopia's Institute for Biodiversity Conservation and the National Agricultural Research Institute, have developed a tool to help farmers choose varieties to suit their future needs.
The research initially focused on providing new varieties of barley and durum wheat to 100 women farmers at three sites of varying elevation.
During the first phase of the project, information about more than 12,500 samples of seeds of different varieties was gathered to identify the ones from areas currently experiencing the climatic conditions – in terms of rainfall and temperature – projected to occur at the pilot sites in a generation's time.
---