Biogas project helps Kenyan school save money, and trees
(Read article summary)
A school in Kenya uses biogas from human waste for fuel, saving money and trees, and reducing carbon-dioxide emissions from burning wood.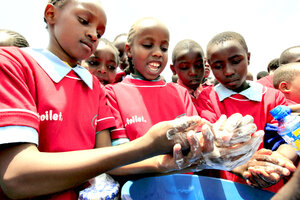 Thomas Mukoya/Reuters/File
When Evelyn Mukami, a form three student, joined Gachoire Girls Secondary School in January 2010, she was very surprised to learn how the meals at her school were prepared.
The charcoal and firewood that are typically used for cooking in Kenya were nowhere to be seen. Instead, the kitchens cooked with biogas produced from the students' own toilet waste.
"Before I came to this school, I was living in Nakuru (in Kenya's Rift Valley) where we use charcoal and firewood for cooking," Mukami said. "I didn't imagine my waste being a source of energy."
RELATED: Top 5 nations that use renewable energy
Since 2006, biogas has been a key resource for the 36-year-old school in Central Kenya, saving the expense of buying fuel and emptying latrines, while also preserving a significant number of trees and reducing carbon dioxide emissions from burning wood.
In the process, Gachoire has become a model of how the effects of climate change can be mitigated at the local level.
"If all schools, both primary and secondary, took up this initiative, I think after a few years we can count how much carbon we have saved from the atmosphere by sparing the trees and our forests," said Esther Lung'ai, a local project officer at the Arid Lands Information Network, a nongovernmental organization.
Lung'ai added that she had eaten food from the school kitchen and there was nothing in the taste to indicate that it had been cooked using by-products of human waste.
Waste from toilets at the school is deposited into large pipes and pumped automatically into a bio-digester buried underground. Bacteria are added to break down the waste, and gas is produced as a by-product of this process. A pipe transfers the gas from the digester to the kitchen, which is about 200 metres (220 yards) away.
---