Schwarzenegger still a man of (environmental) action
(Read article summary)
The former California governor and action film star has founded R20 Regions of Climate Action. It teams local and state governments, and other partners, to find ways to become energy efficient in economically viable ways.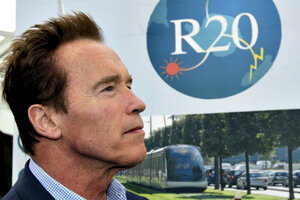 Denis Balibouse/Reuters/File
Former California Gov. Arnold Schwarzenegger is all about action, whether it's on a film set or working to terminate fossil fuels.
"When I was governor, I believed in the important role government played in reducing greenhouse-gas emissions, but I also knew that leadership was not going to come at a national level," now former Governor Schwarzenegger said in a statement to The Christian Science Monitor.
This idea – that local and state-level efforts can more effectively combat climate change than complex international agreements – led Schwarzenegger to found R20 Regions of Climate Action. The nonprofit organization counts states, cities, financial institutions, foundations, and various United Nations programs as its members, partners, and observers.
The year-old group isn't waiting for political gridlock to break free or national laws to be passed – obstacles that can block needed actions in the United States and around the world, Schwarzenegger says.
Not that Schwarzenegger opposes government action. While governor, he signed legislation for several environmental initiatives, including the Hydrogen Highway, the Million Solar Roofs Initiative, and the Global Warming Solutions Act.
"I worked with governors in other states to create the Western Climate Initiative, and then I worked with leaders in the European Union and Canada to launch the International Carbon Action Partnership. And the results were unbelievable," Schwarzenegger says.
---