A modern, wired university grows in Nigeria
(Read article summary)
The American University of Nigeria provides a modern education right in the backyard of Boko Haram, Nigeria's homegrown terrorist group. One clue: The campus claims 55 percent of all the Internet traffic in Nigeria.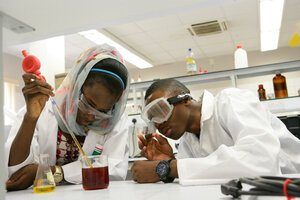 Courtesy of American University of Nigeria
It's tough to get an Internet connection in northern Nigeria. That's why Google was surprised to see – on their user map, where they track the locations of people Googling around the world – a big bright dot of activity in the Nigerian city of Yola, right on the southern edge of the Sahara Desert.
Nigeria has 170 million people, the most populous country in Africa and 7th largest in the world. But Yola has fewer than 100,000 people, and is close to the home of the Boko Haram terrorist group.
So when Google sent a team out to Nigeria last fall to figure out who was doing all that Googling, the California-based company was surprised to find a scene right out of an American college campus. In fact, they sort of did stumble on an American university – the American University of Nigeria (AUN).
RELATED: What is Nigeria's Boko Haram? 5 things to know
According to AUN's president, American Margee Ensign, Google was pleasantly surprised to find the campus.
"Google told us we were 55 percent of their traffic in the whole country," Ensign says.
Latitude News caught up with Ensign as she was traveling from California to Nigeria. During a brief layover in Belgium, Ensign talked about what it meant to be an "American-style" university in a country associated in many people's minds with spammers and Boko Haram.
---