Africa's entrepreneurs on the rise
(Read article summary)
Africa is booming with young entrepreneurs, but they don't always operate like their counterparts in the US.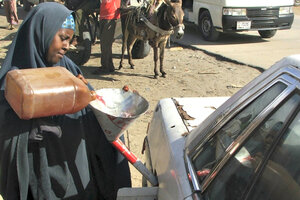 Ismail Taxta/Reuters/File
The start-up world is getting a lot bigger: Silicon Valley now has serious competition from places like Singapore, Sao Paulo, and Tel Aviv.
Will its rivals soon include Lagos, Cape Town, or any number of fast-growing African cities?
Yes, says Benson Honig, a professor in the DeGroote School of Business at McMaster University in Hamilton, Ontario. "There's a demographic time bomb in the aging Western world," Honig says. "Where are the young people? Africa."
RELATED: Think you know Africa? Take our geography quiz.
Africans already have the right business instincts. "Africa is a continent of entrepreneurs," he says. "You have no choice. If you need a part, you can't order it from somewhere else. It might take six months or a year to come. So you make it yourself."
---